include('php/meta.php');?> include('php/script.php');?>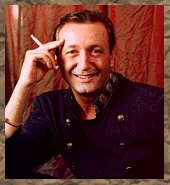 Manfred Langer (1952 - 1994)

Born on May 13, 1952 in Vienna Austria, Manfred studied there at the Hotel School and did his internship at the chic Schonbrunn Park Hotel. In 1973, he came to Amsterdam and worked at the Hilton Hotel. However, his life soon took a different direction when Manfred met Ad van Besouw, the owner of the famous Amstel Tavern, which is found just around the corner from Rembrandt Square. Here, Manfred became the life of the party and brought the Amstel Tavern to unrivaled heights of popularity.

In 1978, right next to the Amstel Tavern, he began his own bar called Chez Manfred. The business grew quickly to become one of the liveliest cafes on Rembrandt Square, where Dutch music was principally played. From opening until closing, the bar was always full of famous and not-so-famous Dutch.

Manfred loved doing things in a big way. So when it came time to celebrate his birthday, for example, he brought a whole Viennese orchestra to Amsterdam's Concert Hall. With hundreds of friends he celebrated in the Viennese style.
Also as a businessman, Manfred thought big. On September 7, 1989 he opened the now nationally and internationally famous disco iT, with the goal to integrate the gay and hetero communities in the Amsterdam party scene. This remains unique for Amsterdam, where gays and lesbians, heterosexuals, transvestites, where everything was and still is possible. In this mega dance house Manfred was king. Many international celebrities visited or performed at the iT, such as Grace Jones, Eddie Murphy, Boy George, Jean Paul Gautier, 2 Unlimited, Udo Jurgens, Bruce Willis, Latoya Jackson, Karel Appel, Richard Krajicek ...

In the summer of 1994, Manfred was unexpectedly told that he had throat cancer and did not have long to live. This earth shattering news came in the summer. Only a few months later, on the 21st of November, he died. Manfred Langer died at the top of his abilities at just forty-two years old; the spotlights were turned off and the curtain fell for this legendary man. Yet, even at his funeral, Manfred had a gigantic spectacle staged. Twenty limousines followed the pink one that carried him to his last place of rest. Ten thousand friends, acquaintances and the curious attended the ceremony. Even national and international TV stations followed the spectacular affair. At the graveside, everyone got a small bottle of vodka (Manfred's favorite drink), which everyone drank and then threw into the grave.

In the Amsterdam cemetery, Zorgvliet, stands a life-sized monument in memory of Manfred. Until this day, no one has been able to fill the emptiness he has left behind.

Manfred, we miss you.
---